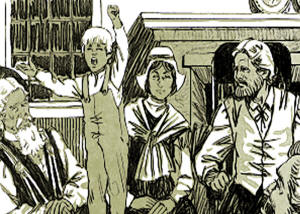 Charles Tells His Story
My father, Charles Chiniquy, born in Quebec, had studied there for the priesthood. But a few days before making his vows he witnessed a great iniquity in the high quarters of the church. He changed his mind, studied law, and married Reine Perrault. In 1803 he settled in Kamoraska, where I was born on the 30th of July 1809.
Four or five years later we emigrated to Murray Bay, which had no school. My mother became my first teacher.
Before leaving the seminary, my father had received from one of the superiors, as a token of his esteem, a beautiful French and Latin Bible. That Bible was the first book, after the A B C, in which I was taught to read. My mother selected interesting chapters which I read everyday till I knew many of them by heart.
How many delicious hours I have spent by my mother's side reading to her from the sublime pages of the divine book. Sometimes she interrupted me to see if I understood what I read. When my answers made her sure that I understood it, she used to kiss me and press me on her bosom as an expression of her joy.
We were some distance from the church and on rainy days the roads were very bad. On the Sabbath days the farmers were accustomed to gather at our house in the evening. Then my parents used to put me up on a large table in the midst of the assembly, and I delivered to those good people the most beautiful parts of the Old and New Testaments. When I tired, my mother, who had a fine voice, sang some of the beautiful French hymns with which her memory was filled.
When the weather allowed us to go to church, the farmers would take me into their buggies at the door of the temple, and request of me some chapter of the Gospel. With perfect attention they listened to the voice of the child whom the Good Master had chosen to give them the bread which comes from heaven. More than once I remember, when the bell called us to the church, they regretted that they could not hear more.
One beautiful day in 1818 my father was writing in his office, my mother was working with her needle, and I was at the door playing. Suddenly I saw a priest coming near the gate and felt a chill of uneasiness. It was his first visit to our home.
The priest was of short stature with an unpleasant appearance. His shoulders were large and he was very corpulent. His hair was long and uncombed, and his double chin seemed to groan under the weight of his flabby cheeks.
I hastily ran and whispered to my parents, "Mr. Curate is coming." The sound was hardly out of my lips when the Rev. Courtois was at the door. My father shook hands with him in welcome.
The priest was born in France, where he had a narrow escape, having been condemned to death under the bloody administration of Robespierre. He had taken refuge with many other French priests in England, then came to Quebec. Here the Bishop had given him charge of the parish at Murray Bay.
His conversation was interesting and animated for the first quarter of an hour. It was a real pleasure to hear him. But all of a sudden, his countenance changed as if a dark cloud had come over his mind, and he stopped talking. My parents had been respectfully reserved as they listened. The silence which followed was exceedingly unpleasant for all the parties, like the heavy hour before a storm.
At length the priest, addressing my father, said, "Mr. Chiniquy, is it true that you and your child read the Bible?"
"Yes, sir," was the quick reply, "my little boy and I read the Bible, and what is still better, he has learned by heart a great number of its most interesting chapters. If you will allow it, Mr. Curate, he will give you some of them."
"I did not come for that purpose," abruptly replied the priest. "But do you not know that you are forbidden by the Council of Trent to read the Bible in French?"
"It makes very little difference to me whether I read the Bible in French, Greek, or Latin," answered my father, "for I understand these three languages equally well."
"But are you ignorant of the fact that you cannot allow your child to read the Bible?"
"My wife directs her own child in the reading of the Bible, and I cannot see that we commit any sin."
"Mr. Chiniquy," rejoined the priest, "you have gone through a whole course of theology. You know the duties of a curate. You know it is my painful duty to come here, get the Bible from you and burn it."
My grandfather was a fearless Spanish sailor (our original name was Etchiniquia), and there was too much Spanish blood and pride in my father to hear such a sentence with patience in his own house. Quick as lightening he was on his feet, I pressed myself, trembling, near my mother, who trembled also.
At first I feared lest some unfortunate and violent scene should occur, for my father's anger in that moment was really terrible.
But I feared more lest the priest should lay his hands on my dear Bible, which was just before him on the table. It was mine, given to me the last year as a Christmas gift. Fortunately my father had subdued himself but was pacing the room with his lips pale and trembling, and he was muttering between his teeth.
The priest was closely watching father, his hand convulsively pressing his heavy cane, and his face evidencing a too well-grounded terror.
It was clear that the ambassador of Rome did not find himself infallibly sure of his position. Since his last words he had remained as silent as a tomb.
At last my father suddenly stopped before the priest. "Sir, is that all you have to say here?"
"Yes, sir," said the trembling priest.
"Well, sir," added my father, "you know the door by which you entered my house: please take the same door and go away quickly."
The priest went out immediately. I felt inexpressible joy that my Bible was safe. I ran to my father's neck, kissed and thanked him for his victory. And to pay him, in my childish way, I jumped upon the large table and recited in my best style, the fight between David and Goliath. Of course, in my mind, my father was David and the priest of Rome was the giant whom the little stone from the brook had stricken down.
Thou knowest, O God, that to that Bible, read on my mother's knees, I owe, by Thy infinite mercy, the knowledge of the truth today; that the Bible had sent, to my young heart and intelligence, rays of light which all the sophisms and dark errors of Rome could never completely extinguish.
Part 2
In June 1818 my parents sent me to an excellent school at St. Thomas. There one of my mother's sisters was the wife of an industrious miller, Stephen Eschenbach. They had no children and they received me as their own son.
The beautiful village of St. Thomas had already, at that time, a considerable population. Two fine rivers uniting there before flowing into the St. Lawrence, supplied the water-power for several mills and factories.
The school of Mr. Allen Jones was worthy of its widespread reputation. As a teacher he deserved and enjoyed the highest respect and confidence of his pupils and their parents. But being a protestant, the priest was much apposed to him, and every effort was made to induce my relatives to send me to the school under his care.
Dr. Tache was the leading man of St. Thomas. He had no need of the influence of the priests, and he frequently gave vent to his supreme contempt for them. Once a week there was a meeting in his house of the principal citizens of St. Thomas, where the highest questions of history and religion were freely and warmly discussed; but the premises as well as the conclusions were invariably adverse to the priests and religion of Rome, and too often to every form of Christianity.
Though these meetings were not entirely secret societies, they were secret to a great extent. My friend Cazeault was Dr. Tache's nephew and boarded at his house. He was punctual in telling me the days and hours of the meetings and I used to go with him to an adjoining room, where we could hear everything without being suspected. From what I heard and saw in these meetings I most certainly would have been ruined, had not the Word of God, with which my mother, had filled my young mind and heart, been my shield and strength.
There was also in St.Thomas one of the former monks of Canada, known under the name of Capuchin or Recollets, whom the conquest of Canada by Great Britain had forced to leave their monastery. He was a clockmaker and lived honorably by his trade.
Brother Mark, as he was called, was a remarkably well-built man with the most beautiful hands I ever saw. His life was a solitary one, always alone with is sister, who kept his house. Brother Mark spent a couple of hours a day fishing and I used to meet him often along the banks of the beautiful rivers of St. Thomas. As soon as he found a place where the fish were abundant, he would call me, that I might share in his good luck. I appreciated his attention and repaid him with sincere gratitude.
He often invited me to his solitary but neat little house. His good sister would over whelm me with attention and love. There was a mixture of timidity and dignity in brother Mark which I have found in no one else. He was fond of children and gracefully smiled when I showed appreciation for his kindness. But that smile and any other expression of joy, was very transient. Suddenly it would change, as if some mysterious cloud passed over his heart.
He and the other monks of the monastery had been released by the pope from their vows and poverty and obedience. They could become independent and even rise to a respectable position in the world by their honorable efforts. But the pope had been inflexible about their vow of celibacy. The honest desires of the good monk to live according to the laws of God, with a wife whom heaven might have given him, had been an impossibility—the pope vetoed it.
Brother Mark was endowed with such a loving heart! He must have suffered much trying in vain to annihilate the instincts and affections which God himself had implanted in him.
One day I was with a few other young friends near the house of brother Mark. Suddenly we saw something covered with blood thrown from the window and falling a short distance from us. At the same instant we heard loud cries coming from the monks house: "O my God have mercy upon me! Save me! I am lost!"
Brother Mark's sister rushed out and cried to some men who were passing by: "Come to our help! My poor brother is dying! For God's sake make haste, he is losing all his blood!"
I ran to the door, but the lady shut it abruptly saying, "We do not want children here."
I had a sincere affection for the good brother. He had been so kind to me! But I had to go back among the crowd, which was fast gathering. The singular mystery in which they were trying to wrap the poor monk, filled me with trouble and anxiety.
But that trouble was soon changed into an unspeakable confusion when I heard the convulsive laughing and shameful jokes of the crowd, after the doctor had told the nature of the wound. I was struck with such horror that I fled away. I did not want to know any more of that tragedy. I had already known too much!
Poor brother Mark had ceased to be a man—he had become an eunuch!
O cruel and godless church of Rome! How many hearts hast thou broken with that celibacy which Satan alone could invent! This unfortunate victim did not, however, die from his rash action.
He soon recovered his usual health.
Having, meanwhile, ceased to visit him, some months later I was fishing in a very solitary place. I was completely absorbed when I felt on my shoulder a gentle pressure of a hand. It was brother mark's.
I thought I would faint through the opposite sentiments of surprise, of pain and joy, which at the same time crossed my mind. With an affectionate and trembling voice he said, "My dear child, why do you not any more come to see me?"
I did not dare to look at him. I liked him for his acts of kindness, but the fatal hour when, in the street before the door, I had suffered so much on his account, was on my heart as a mountain. I could not answer him.
He then asked me again with the tone of a criminal who sues for mercy: "Why is it, my dear child, that you do not come any longer to see me? You know that I love you."
"Dear brother Mark," I answered, I will never forget your kindness to me. I will forever be grateful to you! I wish that it would be in my power to continue, as formerly, to go and see you. But I cannot, and you ought to know the reason why I cannot."
I had pronounced these words with the timidity and ignorance of a child. But the action of that unfortunate man had struck me with such a horror that I could not entertain the idea of visiting him any more.
He spent two or three minutes without saying a word, and without moving. But I heard his sobs and his cries of despair, and anguish, like I have never heard since.
I could not contain myself any longer; I was suffocating with suppressed emotion. The tears did me good—they did him good also—they told him that I was still his friend.
He took me in his arms and pressed me to his bosom—his tears were mixed with mine—but I could not speak—the emotions of my heart were too much for my age. I sat on a damp, cold stone in order not to faint. He fell on his knees by my side. His eyes swollen and red with weeping, were raised to heaven, his hand lifted in supplication; he was crying out with an accent which seemed as though it would break my heart—"My God! My God! What a wretched man am I!"
The twenty-five years that I have been a priest of Rome have revealed to me that the cries of desolation I heard that day were but the echo of the cries of desolation which go out from almost every nunnery, every parsonage and every house where human beings are bound by Romish celibacy.
Charles Chiniquy