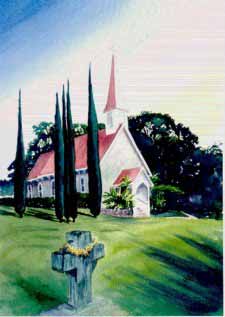 Conditions
"God has a church. It is not the great cathedral, neither is it the national establishment, neither is it the various denominations; it is the people who love God and keep His commandments. 'Where two or three are gathered together in my name, there am I in the midst of them' (Matt. 18:20). Where Christ is even among the humble few, this is Christ's church, for the presence of the High and Holy One who inhabiteth eternity can alone constitute a church.
Unreserved consecration is needed now. Every worker is to make the great Medical Missionary his example. Then there will be seen in his work a purity, a righteousness, that will bring success. Unless self-renunciation and entire consecration are brought into the medical missionary work, human ideas will be followed, and evil influences will come in to sway things in accordance with the purposes of the enemy. Divine enlightenment is greatly needed at this time; for the perils of the situation are very great. SpTB02 19
There are some who in the past have had a correct experience, but who have changed leaders. Not all, but many have been beguiled. There are leaders who, before God can own and accept them, must first be converted, and led back to God. The beauty of His holiness is eclipsed by their unsanctified words and acts. They are strangers to God. They have no union with Him. SpTB02 19
Those leaders and teachers who refuse to follow Christ place themselves under the guidance of the evil angels. Some have already done this, and some, without severe chastisement from God, will never break the spell that is upon them. SpTB02 19
The Laodicean message must be given with earnestness and power, as a message from heaven. If it be ignored, the Lord will certainly cast away from Him those whose spiritual condition is so objectionable. Christ declares that pretentious piety is nauseating to Him. To the ones so full of self-sufficiency He says, "I know thy works, that thou art neither cold nor hot." Their works are opposed to the holy principles of God's word. SpTB02 20
Brethren, I see your peril, and again I ask, Do you who err make any effort to correct the wrong? Souls may be stumbling along, walking in darkness, because you have not made straight paths for your feet. If you are in positions of trust, I appeal the more earnestly to you, for your own souls' sake and for the sake of those who look to you as guides, repent before God for every mistake made, and confess your error.
RH, December 16, 1890
If you indulge stubbornness of heart, and through pride and self-righteousness do not confess your faults, you will be left subject to Satan's temptations. If when the Lord reveals your errors you do not repent or make confession, his providence will bring you over the ground again and again. You will be left to make mistakes of a similar character, you will continue to lack wisdom, and will call sin righteousness, and righteousness sin. The multitude of deceptions that will prevail in these last days will encircle you, and you will change leaders, and not know that you have done so.
RH, December 16, 1890
I ask you who are handling sacred things, I ask the individual members of the church, Have you confessed your sins? If not, begin now; for your souls are in great peril. If you die with your mistakes concealed, unconfessed, you die in your sins. The mansions that Jesus has gone to prepare for all who love him, will be peopled by those who are free from sin. But sins that are not confessed will never be forgiven; the name of him who thus rejects the grace of God will be blotted out of the book of life. The time is at hand when every secret thing shall be brought into judgment, and then there will be many confessions made that will astonish the world. The secrets of all hearts will be revealed. The confession of sin will be most public. The sad part of it is that confession then made will be too late to benefit the wrong-doer or to save others from deception. It only testifies that his condemnation is just.
John declared to the teachers of Israel that their pride, selfishness, and cruelty showed them to be a generation of vipers, a deadly curse to the people, rather than the children of just and obedient Abraham. In view of the light they had received from God, they were even worse than the heathen, to whom they felt so much superior. They had forgotten the rock whence they were hewn, and the hole of the pit from which they had been digged. God was not dependent upon them for the fulfilling of His purpose. As He had called Abraham out from a heathen people, so He could call others to His service. Their hearts might now appear as lifeless as the stones of the desert, but His Spirit could quicken them to do His will, and receive the fulfillment of His promise. DA 106
Some who occupy the position of watchmen to warn the people of danger have given up their watch and recline at ease. They are unfaithful sentinels. They remain inactive, while their wily foe enters the fort and works successfully by their side to tear down what God has commanded to be built up. They see that Satan is deceiving the inexperienced and unsuspecting; yet they take it all quietly, as though they had no special interest, as though these things did not concern them. They apprehend no special danger; they see no cause to raise an alarm. To them everything seems to be going well, and they see no necessity of raising the faithful, trumpet notes of warning which they hear borne by the plain testimonies, to show the people their transgressions and the house of Israel their sins. These reproofs and warnings disturb the quiet of these sleepy, ease-loving sentinels, and they are not pleased. They say in heart, if not in words: "This is all uncalled for. It is too severe, too harsh. These men are unnecessarily disturbed and excited, and seem unwilling to give us any rest or quietude 'Ye take too much upon you, seeing all the congregation are holy, every one of them.' They are not willing that we should have any comfort, peace, or happiness. It is active labor, toil, and unceasing vigilance alone which will satisfy these unreasonable, hard-to-be-suited watchmen. Why don't they prophesy smooth things, and cry: Peace, peace? Then everything would move on smoothly."
2T 440
These are the true feelings of many of our people. And Satan exults at his success in controlling the minds of so many who profess to be Christians. He has deceived them, benumbed their sensibilities, and planted his hellish banner right in their midst, and they are so completely deceived that they know not that it is he. The people have not erected graven images, yet their sin is no less in the sight of God. They worship mammon. They love worldly gain. Some will make any sacrifice of conscience to obtain their object. God's professed people are selfish and self-caring. They love the things of this world, and have fellowship with the works of darkness. They have pleasure in unrighteousness. They have not love toward God nor love for their neighbors. They are idolaters, and are worse, far worse, in the sight of God than the heathen, graven-image worshipers who have no knowledge of a better way.
2T 440
Christ's followers are required to come out from the world, and be separate, and touch not the unclean, and they have the promise of being the sons and daughters of the Most High, members of the royal family. But if the conditions are not complied with on their part, they will not, cannot, realize the fulfillment of the promise. A profession of Christianity is nothing in the sight of God; but true, humble, willing obedience to His requirements designates the children of His adoption, the recipients of His grace, the partakers of His great salvation. Such will be peculiar, a spectacle unto the world, to angels, and to men. Their peculiar, holy character will be discernible, and will distinctly separate them from the world, from its affections and lust.
2T 441
I saw that but few among us answer to this description. Their love to God is in word, not in deed and in truth. Their course of action, their works, testify of them that they are not children of the light but of darkness. Their works have not been wrought in God, but in selfishness, in unrighteousness. Their hearts are strangers to His renewing grace. They have not experienced the transforming power which leads them to walk even as Christ walked. Those who are living branches of the heavenly Vine will partake of the sap and nourishment of the Vine. They will not be withered and fruitless branches, but will show life and vigor, and will flourish and bear fruit to the glory of God. They will be careful to depart from all iniquity and to perfect holiness in the fear of God.
2T 441
Like ancient Israel the church has dishonored her God by departing from the light, neglecting her duties, and abusing her high and exalted privilege of being peculiar and holy in character. Her members have violated their covenant to live for God and Him only. They have joined with the selfish and world-loving. Pride, the love of pleasure, and sin have been cherished, and Christ has departed. His Spirit has been quenched in the church. Satan works side by side with professed Christians; yet they are so destitute of spiritual discernment that they do not detect him. They have not the burden of the work. The solemn truths they profess to believe are not a reality to them. They have not genuine faith. Men and women will act out all the faith which they in reality possess. By their fruits ye shall know them. Not their profession, but the fruit they bear, shows the character of the tree. Many have a form of godliness, their names are upon the church records; but they have a spotted record in heaven. The recording angel has faithfully written their deeds. Every selfish act, every wrong word, every unfulfilled duty, and every secret sin, with every artful dissembling, is faithfully chronicled in the book of records kept by the recording angel. 2T 441
Very many who profess to be servants of Christ are none of His. They are deceiving their souls to their own destruction. While they profess to be servants of Christ, they are not living in obedience to His will. "Know ye not, that to whom ye yield yourselves servants to obey, his servants ye are to whom ye obey; whether of sin unto death, or of obedience unto righteousness?" Many, while professing to be servants of Christ, are obeying another master, working daily against the Master whom they profess to serve. "No man can serve two masters: for either he will hate the one, and love the other; or else he will hold to the one, and despise the other. Ye cannot serve God and mammon."
2T 442
Earthly and selfish interests engage the soul, mind, and strength of God's professed followers. To all intents and purposes they are servants of mammon. They have not experienced a crucifixion to the world, with its affections and lusts. But few among the many who profess to be Christ's followers can say in the language of the apostle: "God forbid that I should glory, save in the cross of our Lord Jesus Christ, by whom the world is crucified unto me, and I unto the world." "I am crucified with Christ: nevertheless I live; yet not I, but Christ liveth in me: and the life which I now live in the flesh I live by the faith of the Son of God, who loved me, and gave Himself for me." If willing obedience and true love characterize the lives of the people of God, their light will shine with a holy brightness to the world.
2T 442
Dec. 27, 1896.
To the General Conference of 1897:--
I have words to speak to our brethren who shall assemble in conference in 1897. The present financial controversy has been presented to me as one of Satan's masterpieces for these last days. There is a power moving from beneath, which is after the working of the great enemy. I supposed our own people would step softly, and move very guardedly, and keep themselves aloof from all these new issues in regard to the circulating currency. This is not of the devising of God,--the changing of the circulating currency. What will it effect?--It will cause a state of things that will bring oppression to the poor, and create great distress. It is one of the devil's schemes, and I thought those who believed the truth would not be deceived in the least degree upon this matter. But within the year 1896 matters have been presented to me which have made me tremble for our people. I have been where I heard conversations from those in positions of trust in our institutions, and there was great warmth in controversy over the different positions taken. The light given me was. This is the policy Satan has arranged to bring distress. SpTA08 16
Would we know how we may best please the Saviour? It is not in engaging in political speeches, either in or out of the pulpit. It is in considering with fear and trembling every word we utter.
"So the Lord magnifies Himself as the true and living God. Well might David exclaim: "I have seen the wicked in great power, and spreading himself like a green bay tree. Yet he passed away, and, lo, he was not: yea, I sought him, but he could not be found." Psalm 37:35, 36. Let men become lifted up in pride, and the Lord will not sustain them and keep them from falling. Let a church become proud and boastful, not depending on God, not exalting His power, and that church will surely be left by the Lord, to be brought down to the ground. Let a people glory in wealth, intellect, knowledge, or in anything but Christ, and they will soon be brought to confusion.
8T 127
God had a church when Adam and Eve and Abel accepted and hailed with joy the good news that Jesus was their Redeemer. They realized as fully then as we realize now the promise and the presence of God in their midst. Wherever Enoch found one or two who were willing to hear the message he had for them, Jesus joined with them in their worship of God. In Enoch's day there were some among the wicked inhabitants of earth who believed. The Lord never yet has left His faithful few without His presence, nor the world without a witness.
CTr 51