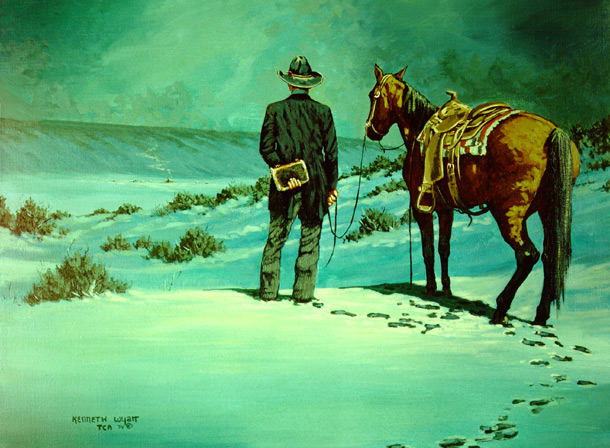 Samuel Zelotes
AMONG the apostles whom the Lord Jesus chose was one named Simon Zelotes. We know little of him; aside from scanty and unreliable tradition we have nothing but the fact of his appointment and whatever significance may be attached to his name. That he was called Zelotes probably signifies that before his selection by Christ he belonged to the Zealots, a Jewish political party fiercely resentful of Roman sovereignty and given to rash sedition. It was this faction which, through its influence even beyond its membership, finally brought down destruction upon Jerusalem and the Jews, fanatically resisting to the last. Simon himself doubtless was naturally of this disposition; and whatever the ameliorating effect upon him of Jesus' life and teaching, his obscurity may be in part due to his nature, which hindered his work and left him in the shadows. Yet Simon Zelotes won through; for he is numbered with the Twelve, who shall sit upon twelve thrones, judging the twelve tribes of Israel. (Matthew 19:28.) And there is about zeal a magnetism which calls forth our admiration.
Similarly, in the Second Advent cause there was one of its early apostles whose zeal and energy were coupled to a spirit of rashness and severity which turned his early promise into obscurity and leaves him almost unknown among our pioneers. Yet he was one who in the beginning bore great responsibilities, who carried the Advent and Sabbath message into the frontiers of America, whom Joseph Bates and James and Ellen White loved, and who, dashing against the ranks of the enemy, cried exultantly to James White: "Be of good cheer, my dear tried brother, and in Jesus' name turn the battle to the gate. I mean to go to heaven with you! I love you more and more!" 102 His name was Samuel W. Rhodes.
I have traced with avidity his story through the files of the Review and Herald in the early years, compelled to admiration by his dash and verve, and not less by his humble confessions, most searching and heartfelt of all that have been written. He must have been a man to love, a man sometimes to fear, a man at last pitifully broken and fading into silence. Like his Connecticut conferee, George W. Holt, who at first manfully swung the sword of God as in the beginning he swung the scythe with James White in the hayfield, and shared with the "Mighties" the brunt of the battle, it was hard for him to accept testimonies of reproof. Yet both of these men did so, and stayed with the message until death, thus passing their tests, and marking them off from the Iscariots who fell out of the ranks.
We first hear of Samuel Rhodes in the autumn of 1849. He had been a young preacher of the Second Advent in the following of William Miller; and, like Bates, he had spent his means in his own labors and for others in the message. His home was in Oswego, New York, and his preaching was in that State. When the Disappointment came in 1844, he was utterly confounded and discouraged. For a time he endured the obloquy of his position and the taunts of enemies, but it was too much for his mercurial spirit; and suddenly crying, "Good-by, proud world! Fm leaving you!" he mounted his pony, plunged into the forests of the upper Black River, in the foothills of the Adirondacks, and buried himself from the sight of men. He lived there by hunting and fishing and the tilling of small patches of ground, like the Indians. For three years he continued this hermit life, his chafed spirit soothed by the wilderness environment, yet ever more settled in the conviction that he was rejected of God and despised of men.
But Hiram Edson, the man to whom God revealed the truth of the sanctuary on the morning after the Disappointment, was a friend of Rhodes, and he could not be content to leave him thus in despair. Twice in those three years he went into the wilderness to find his brother; and when he found him, he did all he could to persuade him that God was still his Savior, and that he should come back to his brethren. But Rhodes would not.
In the autumn of 1849 James and Ellen White came into New York State, and settled for a time in Oswego, publishing there six numbers of Present Truth. In November a meeting was appointed at Centerport, about twenty miles south of Oswego, for the believers in all that western country. The Whites, with Edson and others, led the meeting.
Mrs. White did not sympathize with Hiram. Edson's purpose to seek out Samuel Rhodes again. She thought, from reports, that ''Rhodes' was not worthy of so much solicitude. But in a vision at this meeting she was shown that the Lord was seeking him, that the brethren should go to find him and persuade him to come back.
So, with this encouragement, Edson and another brother, Richard Ralph of Connecticut, started out for the wilderness. They went seventy miles to Boonville, a village on the edge of the wilderness, from which they followed an Indian trail to Black River, and were about to plunge farther into the forest on their quest, when lo, on the other side they saw Samuel Rhodes at work in a field. Near by was his hut and a pasture for his pony.
The dark-bright romance of this episode lured us to this town of Boonville. No memorial of Daniel Boone, it was founded as a trading post in 1796 by Gerrit Boon, an agent for a land company, and something of its frontier air still inheres in it. It lies in the narrow valley of Black River. Behind it toward Oswego lies, even today, an extent of wooded and watered hill country which may be called wilderness, through which doubtless Samuel Rhodes journeyed. And before it, beyond the river, rise the Adirondacks.
We followed the "1ndian trail," which is now a third-class road, strait, winding, and descending, to the river two miles away. Here is a narrow bridge across the tumbling, boulder strewn stream; and just above the bridge a stretch of smooth water lies, which may well have been the ford a hundred years ago. On the other side is a modest cottage, which we imagined might have been the site of Rhodes' hut, and we stood in what we supposed was the field where the two brethren found him.
Crossing the river, Edson and Ralph greeted Rhodes, a man none too welcoming. They gave him their message, but he was dubious. At last he consented to go with them the next day, after he should have attended to some business. What that business could be, out there in the wilderness, is not apparent; it seems rather an excuse for delay.
When, the next day, he joined them, he was still more doubtful; and, suddenly turning, he ran away from them. They followed, and found him on his face at the edge of the woods, crying, "Lord, why do my brethren seek me out? Why do they love me so? Does Thou love me? Can I yet be accepted of Thee?" They assured him of their love and of the love of God; and at last he cast in his lot with them and accompanied them to Volney, where David Arnold lived. On Sabbath they gathered in a meeting at Oswego, and Samuel Rhodes sat and drank in the truths of the third angel's message. Shortly, Hiram. Edson reported that Brother Rhodes was growing in grace and power every day, and was out preaching the message. No period of waiting and thinking and pondering for Samuel Zelotes; his race was on, and he read as he ran.
The next few years saw Rhodes in vigorous action. He preached and he exhorted, and he won many converts. The fire of opponents became concentrated upon him. James White wrote of him: "No man has more freely given all for a treasure in heaven than Brother Rhodes. His commendable zeal in the cause, and success in convincing people of the truth, has caused our enemies to wickedly reproach him."
He accompanied James and Ellen White into New England, and there in Vermont occurred the episode related in Mrs., White's Life Sketches, in which two fanatics, mesmerists and false teachers, traveling with two women dressed in white linen to represent the righteousness of the saints, tried to control a meeting of the believers. "As our meeting progressed, these fanatics sought to rise and speak, but they could not find opportunity. It was made plain to them that their presence was not wanted, but they chose to remain. Then Brother Samuel Rhodes seized the back of the chair in which one of the women was sitting, and drew her out of the room and across the porch onto the lawn. Returning to the meeting-room, he drew out the other woman in the same manner. The two men left the meeting-room." That was Samuel Rhodes, a Phineas in action.
When James White, in Paris, Maine, in the autumn of 1850, decided to change Present Truth into Second Advent Review and Sabbath Herald, Samuel Rhodes, with Joseph Bates, John N. Andrews, and White, formed the publishing committee. But Rhodes was restless and eager, with all the ardor of Bates and not so much of his balance. The paper, too, was peripatetic, moving from place to place, the next year in Saratoga Springs, New York, and the following year in Rochester. Rhodes disappears from the publishing committee, but his reports from the field are frequent, glowing, and inspiring.
Indeed, during the year 1850 he had struck into the West, the next after Bates in Michigan, and before him in the country farther west. Probably Bates on his return through New York after his visit to Jackson, saw Rhodes and fired the tinder of his soul by his account of that western outpost; for within a few months we find Rhodes at Jackson, where, like Apollos after Paul, he watered the seed that Bates had planted. Accompanied then by J. C. Bowles, a local man, he sallied into Indiana; and Bowles there turning back, Rhodes went alone into Illinois and Wisconsin, the first of our men to pioneer in this new territory.
Returning through Michigan, he brought into the faith H. S. Case, who was for some time thereafter an earnest preacher, before he departed on his Messenger way; and Rhodes baptized also three sons of Silas Guilford, 106 brother-in-law of William. Miller, who by his invitation had launched that herald of the Advent upon his course in 1831. The oldest of Silas' sons was Irving, the boy who took the message to William Miller on that August morning twenty years before; next to the youngest was Hiram, then a seven-year-old, and who as an old man, in 1907, gave me the true story of Irving's ride and of Uncle William Miller's response.
Samuel Rhodes in this period was a blazing star, eager, impetuous, warmhearted, loyal. And he was fiery. His enemies threw accusations against him of every sort, from lying to "spiritual wifery." Defending him, James White invited the brethren where he had labored to write their testimony. Ezra P. Butler of Vermont, the father of that George I. Butler who afterward became president of the General Conference, and whom Sister White described as "a man of stern integrity," wrote conscientiously, "We have often heard of his being harsh, severe, and uncharitable, and sometimes abusive to his opponents; but must confess that the charge filed against Brother Rhodes by Elder Himes is unlike what we have taken to be his character."
Rhodes humbly confessed his faults in letters to the Review and Herald, letters which for self-condemnation equal the 5lst Psalm, though not for David's sin but for a cutting judgment and a sharp tongue. He was to repeat his confessions in following years, ever with self-accusation and humility; and at last, in 1860, he wrote that he "would this day resign this holy office, and retire from my public labors to a more humble relation to the church." Ill health was largely the cause of his fault and of his retirement. Even in 1852 he was sorely smitten with malaria and bronchial trouble, and to these were later added catarrh and digestive disorders. Most of these diseases made also the record of his companions in the work, except Joseph Bates, who, abstemious health reformer that he was, rode triumphantly free from the dietetic sins and penalties of his fellows. Rhodes declared himself to be one who "still loves devotedly" the cause he had served.
Little more is heard from him. In 1867 he sends the obituary of his wife, who died in Oswego, New York; and in the last of that same year he writes with humble grace from Battle Creek, to which city he had just removed. After that, silence.
I had thought for a time that Samuel Rhodes might have been the father of Clinton D. Rhodes, who in the last decade of Battle Creek headquarters was first cashier, then treasurer of the Review and Herald. But this idea was dispelled by a visit to the widow of Clinton Rhodes, now eighty-five years old, who greeted me cordially; and while she could not remember the name of her husband's father, she was sure it was not Samuel, and gave me data which made me sure also.
Acting upon a hope, I applied to the record office in Oak Hill Cemetery to know if his burial there was indicated. It was. He died in Marshall, Michigan, of paralysis, in April, 1883, age seventy years, but was returned to Battle Creek for interment in a lone and unmarked grave. But by the plat I found it, directly in front of the chapel, on Oak Avenue, in a lot no grave in which is marked. If any desire to know the spot, it is Lot 1010, Burial Right 7, and the sexton will show it to you.
His wife had died long before, and he was left alone. How long his malady chained him, who cared for him in those last years of distress, who smoothed his pillow in the final hours, I do not know. I know that a gallant and withal loyal soul lived in Samuel Rhodes, whose zeal occasionally outran his judgment and whose tongue was sometimes a fire, but who humbled his heart under rebuke, and died at last, perhaps unnoticed, in a field where he had pioneered. He should not lie in an unmarked grave, though doubtless the Lord will find him when He comes.
"They went forth to battle, but they always fell,
Their might was not the might of lifted spears.
Over the battle-clamor came a spell
Of troubling music, and they fought not well.
Their wreaths are willows and their tribute, tears.
Their names are old sad stories in men's ears.
Yet they will scatter the red hordes of Hell,
Who went to battle forth and always fell."
1947 AWS, FOPI 146-156