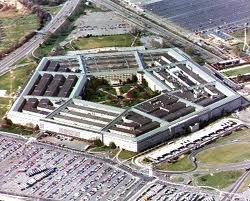 To The Church @ Thy House,
We received the following report from
Pastor Jan Marcussen and watched a video clip of his interview with the couple who invited the officer from the Pentagon.
A few years ago an Adventist Couple were attending a Daniel and Revelation seminar in Washington DC. The wife was a secretary at the Pentagon. She invited her boss to
the meetings and he accepted. On the night he came, the Sunday Law was the topic.
After the meeting, he said to the Adventist couple, "The Sunday Law comes up for discussion from time to time at the Pentagon" and he said, "It is not a matter of if, but when it will be enforced. "
So, for those who say it isn't going to happen, better check with the Pentagon !
Are we ready for the event and the struggle that will follow ? The Spirit of the Lord told us it would surely come.
"Church and state are now making preparations for the future conflict. Protestants are working in disguise to bring Sunday to the front, as did the Romanists."
5 T, p. 449
And the Pentagon is part of the plan to enforce it !
In His Love,
Rich & Joyce Weber
Boston Bar, BC