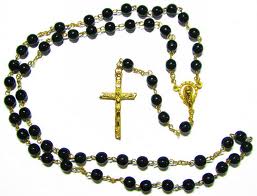 Why and How I left
Roman Catholicism
"I am the Lord and there is none else, there is no God beside me: I girded thee, though thou hast not known me." Isaiah 45:5
"And Mary said, my soul doth magnify the Lord, and my spirit hath rejoiced in God my Saviour." Luke 1:46, 47
I came from a traditional Catholic family, my Christian upbringing influenced me to make the decision to consecrate myself to God. After enrolling in a convent for religious education, two years of engagement prepared me to profess the three religious vows of poverty, celibacy, and obedience. Then I was designated to occupy the position of secretary and teacher at a college of nearly 1,500 students in Itajuba in the state of Minas Gerais, Brazil.
Within five years, I made what is known as a Perpetual Profession, determining that I was in the right path of my personal realization.
The next fifteen years were dedicated to teaching and directing student activities for youngsters in all of the primary grades. During this period, by the grace of God, I was able also to take many courses specializing in the disciplines that I was teaching, plus university courses and various intensive courses in the field of my specific vocation of teaching and administration. (I am thankful to God that He gives me the privilege of applying the knowledge acquired during those years to the progress of His work now.)
Although I was soon charged with heavy responsibilities as director of the college, the daily teaching and supervising of youth groups absorbed me and gave me emotional balance in the face of the tortures that were actually perplexing my spirit.
The antagonism between the ideal that I imagined ought to be, and the actual reality of religious life in the convent, brought me painful confusion. I could not understand the discrepancy between the word being preached and the real life lived by the people who ostentatiously displayed their profession of consecration to God.
I fought and suffered a lot for authenticity in my personal life and in behalf of the community, but this was a battle without results, for such was merely my own way of seeing things.
With this realization, I decided to break my covenant with the congregation, but my arguments were always suppressed: my work was needed, and thus the way out of the convent was blocked. In vain, I continued my efforts to paddle upstream, and waited for twelve more years after my first request for secularization. Then God had mercy upon me. I made my petition to leave the convent directly to Rome. Consequently, I was able to return to my parents' home, where I was very warmly received. In the words of the Psalmist: "I waited patiently for the Lord: and He inclined unto me, and heard my cry. He brought me up also out of an horrible pit, out of the miry clay, and set my feet upon a rock, and established my goings." Psalms 40:1, 2.
Upon leaving the convent, I had no provision or protection through the worker's laws, because at that time the religious workers were not covered by any type of unemployment compensation. I started to work for a company as a bilingual secretary in English and French, where I stayed for two years.
Soon I was invited to direct a technical college at night, in addition to working as a secretary for another school in the morning, as well as teaching technical English, French, Business Accounting and Mathematics in both schools in the city of Passa, Quatro, MG.
After that I was invited to occupy the position of chief secretary at a nursing Academy, which was later incorporated as a school of medicine in Sao Paulo.
The absurdities of the religious life in the convent, totally contrary to the principles of the Gospel, had seriously shaken my spiritual life. The doctrines taught by Roman Catholicism seemed to me to be based on sinking sand. The hollow teachings of the priests and religious leaders lacked the unction and spiritual preparation of the word of God; the religious ignorance of the Catholics and the absence of contact with the Holy Scriptures, and the incoherence between the Catholic life and the precepts of God, etc., all led me to a religious crisis by which I totally abandoned the practices of Catholicism. I started to renew my personal faith only in God Himself, without laying any importance to denominational dogma.
While I was in this spiritual state, on a day marked by the grace of God, a servant of the Lord, Pastor Moises Quioga, demonstrated Christ's commission to be a "fisher of men." He showed me again the face of our good God during a brief contact we made while commuting on the same bus.
This was the first time in my life that I had ever been able to dialogue with someone of different religious beliefs. As we went our separate ways, following an exchange of our ideas and principles I gave Pastor Quioga my address, manifesting the desire to know more about this new doctrine.
During the first few visits, Brother Quioga gave me several books of Sister White, including Steps To Christ, The Desire Of Ages, and The Great Controversy.
Gradually I began to study into the principles of the reform faith. What surprises I encountered at each step of the way! As I progressed in the marvelous truth… my eyes were also opened to the intricacy of the doctrinal errors of Roman Catholicism. I felt that I had been thirsting for this truth for many years, and only now was I able to drink at the waters of salvation.
The Great Controversy brought an end to my internal conflict because the truth taught in that precious book was diametrically opposed to the doctrines taught by the Catholic church that I had professed.
At the grateful realization of my own freedom of conscience. I decided with much joy to abandon Catholicism…After initially attending a series of evangelistic meetings, I continued to visit on a regular basis.
At my first meeting I enrolled as a Sabbath School student and soon afterwards was in the baptismal class. From thenceforth I wholeheartedly dedicated myself to live my new faith, acquired as a gift from God. As a result, genuine changes took place in my lifestyle, including my eating habits. Step by step I was growing in knowledge as I searched and studied the Bible, the writings of Ellen White, and all the church publications.
My greatest desire during this short time was to recuperate all my lost time and become an active member. "Behold, and how good and how pleasant it is for brethren to dwell together in unity!" Psalms 133:1. My earnest yearning was to totally die to the world, that the grace of God might continually renew me in His love.
On July 31st, 1977, I had the opportunity to give my public testimony before the Universe, of my renunciation of the world and acceptance of Christ in my life through baptism.
In the exuberance of my happiness, I make my own the words of David: "O clap your hands, all ye people; shout unto God with the voice of triumph." Psalms 47:1. "And He hath put a new song in my mouth, even praise unto our God: many shall see it, and fear, and shall trust in the Lord. Many, O Lord my God, are Thy wonderful works which thou has done, and Thy thoughts which are to us-ward: They cannot be reckoned up in order unto Thee: if I would declare and speak of them, they are more than can be numbered." Psalms 40:3, 5
At the end of my life I would like to say as the apostle Paul did in 2 Timothy 4:7: "I have fought a good fight, I have finished my course, I have kept the faith."
My deep gratitude extends to all of our loving and hospitable brethren who prayed for me and encouraged me in my faith. I also thank all our brethren with whom I have been in contact, especially those who testified in my behalf despite the fact that I "appeared out of the blue."
Let us walk together brethren, united in Christian love and in the pathway of perfection appointed and directed by Christ, until we reach the goal that He has set before us. May each of us be enabled to stand when our Saviour comes in the clouds of heaven, and to welcome Him. May His grace be with us till the final victory!