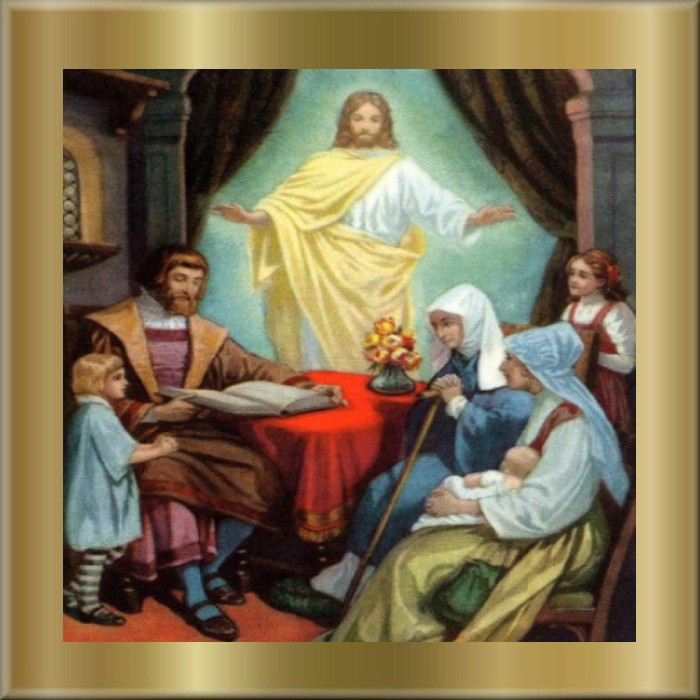 God's Church
"And He is before all things, and by Him all things consist.
And He is the head of the body, the church: who is the beginning, the firstborn from the dead; that in all things He might have the preeminence.
For it pleased the Father that in Him should all fullness dwell;"
Colossians 1:17-19
"To the general assembly and church of the firstborn, which are written in heaven, and to God the Judge of all, and to the spirits of just men made perfect,
And to Jesus the mediator of the new covenant, and to the blood of sprinkling, that speaketh better things than that of Abel."
Hebrews 12:23, 24
"God has not changed toward His faithful servants who are keeping their garments spotless. But many are crying, "Peace and safety," while sudden destruction is coming upon them. Unless there is thorough repentance, unless men humble their hearts by confession and receive the truth as it is in Jesus, they will never enter heaven. When purification shall take place in our ranks, we shall no longer rest at ease, boasting of being rich and increased with goods, in need of nothing.
Who can truthfully say: "Our gold is tried in the fire; our garments are unspotted by the world"? I saw our Instructor pointing to the garments of so-called righteousness. Stripping them off, He laid bare the defilement beneath. Then He said to me: "Can you not see how they have pretentiously covered up their defilement and rottenness of character? 'How is the faithful city become an harlot!' My Father's house is made a house of merchandise, a place whence the divine presence and glory have departed! For this cause there is weakness, and strength is lacking."
A Call For Reformation
Unless the church, which is now being leavened with her own backsliding, shall repent and be converted, she will eat of the fruit of her own doing, until she shall abhor herself. When she resists the evil and chooses the good, when she seeks God with all humility and reaches her high calling in Christ, standing on the platform of eternal truth and by faith laying hold upon the attainments prepared for her, she will be healed. She will appear in her God-given simplicity and purity, separate from earthly entanglements, showing that the truth has made her free indeed. Then her members will indeed be the chosen of God, His representatives.
The time has come for a thorough reformation to take place."
8T 250
"God has a church. It is not the great cathedral, neither is it the national establishment, neither is it the various denominations; it is the people who love God and keep His commandments. "Where two or three are gathered together in my name, there am I in the midst of them" (Matthew 18:20). Where Christ is even among the humble few, this is Christ's church, for the presence of the High and Holy One who inhabiteth eternity can alone constitute a church.
Where two or three are present who love and obey the commandments of God, Jesus there presides, let it be in the desolate place of the earth, in the wilderness, in the city enclosed in prison walls. The glory of God has penetrated the prison walls, flooding with glorious beams of heavenly light the darkest dungeon. His saints may suffer, but their sufferings will, like the apostles of old, spread their faith and win souls to Christ and glorify His holy name. The bitterest opposition expressed by those who hate God's great moral standard of righteousness should not and will not shake the steadfast soul who trusts fully in God. . . .
They that will be doers of the word are building securely, and the tempest and storm of persecution will not shake their foundation, because their souls are rooted to the eternal Rock."
UL 315
"The evils are to be cut away from the life. Sins are to be repented of. Though they are as scarlet, they may be made as white as snow. Just as great a transformation as possible is to take place in the character. But if, after test and trial, after being brought into connection with those who work faithfully in their behalf, men and women do not give evidence that they have been purified from wrong habits and practises, they show that they do not appreciate the pearl of great price. If they are dishonest in any transaction, temporal or spiritual, if they are not straightforward, they show that they regard the rich mercies of God as a common thing. They can not see the value of the pearl of great price. "If ye be willing and obedient, ye shall eat the good of the land," God declares; "but if ye refuse and rebel, ye shall be devoured with the sword: for the mouth of the Lord hath spoken it. How is the faithful city become an harlot." How have those who have had every opportunity to know the truth become defiled with the corruptions of the ungodly. "It was full of judgment; righteousness lodged in it; but now murderers. Thy silver has become dross, thy wine mixed with water."
Those represented in these words have mingled the sacred with the common. They profess to believe the truth, but they can not carry dishonest practises in the narrow road and through the strait gate. By their actions they show that they have chosen the road in which the world travels. "Enter ye in at the strait gate: for wide is the gate, and broad is the way, that leadeth to destruction, and many there be which go in thereat: because strait is the gate, and narrow is the way, which leadeth unto life, and few there be that find it." "Strive to enter in at the strait gate: for many, I say unto you, will seek to enter in, and shall not be able. When once the Master of the house is risen up, and hath shut to the door, and ye begin to stand without, and to knock at the door, saying, Lord, Lord, open unto us; and he shall answer and say unto you, I know you not whence ye are: then shall ye begin to say, We have eaten and drunk in thy presence, and thou hast taught in our streets. But he shall say, I tell you, I know you not whence ye are; depart from me, all ye workers of iniquity."
RH, August 1, 1899
"No stronger delusion can possess the human mind than that which makes men believe they are on the right foundation, and that God accepts their works, when they are sinning against him. When placed in the furnace fire to be tried by the great Refiner, much that has been esteemed fine gold will be consumed as dross. Can Christ say of his professed followers, These are my peculiar people; I gave myself for them, to redeem them from all iniquity, that they should show forth my praise, who have called them out of darkness into my marvelous light. Would not the Lord say, rather, How is the beautiful city become a harlot, and my Father's house a place of merchandise. Because of your unbelief, I cannot do many mighty works among you.
We are not to call sin righteousness, or righteousness sin. While we should ever manifest pity and compassion for the erring, we should be governed by sanctified judgment and the fear of God. In their undue sympathy for the sinner, many are learning to palliate sin. The most hardened criminals in our land find a host of sympathizers. Special attention is shown them, simply because their crimes have brought them into disrepute, and exposed them to the penalty of the law. It is considered a virtue to throw the mantle of charity over sins that are misleading and corrupting thousands.
The same spirit is coming into the church. However guilty a wrong-doer may be, however lamentable the results of his course, he will find sympathizers. When he is reproved, there are unconsecrated ones who stand ready to sustain him. By their unwise sympathy, they lead him to look upon himself as abused, and thus they effectually bar his way to repentance and reform.
The approval of men--even of professed Christians--is no evidence of the favor of God."
RH, November 7, 1882
"Reproof and rebuke may, and will, come closer home to individuals than they dream of. God has His work in hand, and declarations will be made that will test the faith and loyalty of the people of God. There are those who have had great light, who are far from God, who in heart are apostates. . . ."
CTr 125
"Some will claim that they are wholly led by the Spirit, and consequently they have not much use for the law of God or any portion of God's Word. Those who claim great light and are not sanctified through the truth are dangerous people, but they can be easily tested. "To the law and to the testimony: if they speak not according to this word, it is because there is no light in them." Isaiah 8:20. . .
We must expect to be assailed by the powers of darkness, but if we successfully resist, then there will be rejoicing in heaven. The souls of human beings are valued by the heavenly host. . . . We must not be under anyone's banner but Christ's."
CTr 240
"Notwithstanding the spiritual darkness and alienation from God that exist in the churches which constitute Babylon, the great body of Christ's true followers are still to be found in their communion. There are many of these who have never seen the special truths for this time. Not a few are dissatisfied with their present condition and are longing for clearer light. They look in vain for the image of Christ in the churches with which they are connected. As these bodies depart further and further from the truth, and ally themselves more closely with the world, the difference between the two classes will widen, and it will finally result in separation. The time will come when those who love God supremely can no longer remain in connection with such as are "lovers of pleasures more than lovers of God; having a form of godliness, but denying the power thereof." GC 390
"Solemn Warnings Stir Thousands.--Men of faith and prayer will be constrained to go forth with holy zeal, declaring the words which God gives them. The sins of Babylon will be laid open. The fearful results of enforcing the observances of the church by civil authority, the inroads of Spiritualism, the stealthy but rapid progress of the papal power, --all will be unmasked. By these solemn warnings the people will be stirred. Thousands upon thousands will listen who have never heard words like these. In amazement they hear the testimony that Babylon is the church, fallen because of her errors and sins, because of her rejection of the truth sent to her from heaven." --The Great Controversy, pp. 606, 607. (1888)
Ev 43
Covetousness Among God's People
"I saw that many who profess to be keeping the commandments of God are appropriating to their own use the means which the Lord has entrusted to them and which should come into His treasury. They rob God in tithes and in offerings. They dissemble and withhold from Him to their own hurt. They bring leanness and poverty upon themselves and darkness upon the church because of their covetousness, their dissembling, and their robbing God in tithes and in offerings.
I saw that many souls will sink in darkness because of their covetousness. The plain, straight testimony must live in the church, or the curse of God will rest upon His people as surely as it did upon ancient Israel because of their sins. God holds His people, as a body, responsible for the sins existing in individuals among them. If the leaders of the church neglect to diligently search out the sins which bring the displeasure of God upon the body, they become responsible for these sins. But to deal with minds is the nicest work in which men ever engaged. All are not fitted to correct the erring. They have not wisdom to deal justly, while loving mercy. They are not inclined to see the necessity of mingling love and tender compassion with faithful reproofs. Some are ever needlessly severe, and do not feel the necessity of the injunction of the apostle: "And of some have compassion, making a difference: and others save with fear, pulling them out of the fire."
3T 269
"What can I say to arouse our people? I tell you not a few ministers who stand before the people to explain the Scriptures are defiled. Their hearts are corrupt, their hands unclean. Yet many are crying, "Peace, peace;" and the workers of iniquity are not alarmed. The Lord's hand is not shortened that He cannot save, nor His ear heavy that He cannot hear; but it is our sins that have separated us from God. The church is corrupt because of her members who defile their bodies and pollute their souls.
5T 78
"Notwithstanding the warnings given, Satan's sophistries are being accepted now just as they were accepted in the heavenly courts. The science by which our first parents were deceived is deceiving men today. Ministers and physicians are being drawn into the snare.
I have sent warnings to many physicians and ministers, and now I must warn all our churches to beware of men who are being sent out to do the work of spies in our conferences and churches,--a work instigated by the father of falsehood and deception. Let every church-member stand true to principle. We have been told what would come, and it has come. The enemy has been working under a species of scientific devising, even as he worked in Eden. I can not specify all now, but I say to our churches, Beware of the representations coming from Battle Creek that would lead you to disregard the warnings given by the Lord about the effort to make that a great educational center. Let not your sons and daughters be gathered there to receive their education. Powerful agencies have been stealthily working there to sow the seeds of evil.
I must speak plainly. It is presented to me that the condition of things is just what we were warned that it would be, unless the messages of heaven were received by the leaders of the medical work in Battle Creek. But notwithstanding the warnings given, some to whom they have been sent stand up in self-confidence, as if they knew all that it was needful for them to know. They claim that they are right in the sight of God, while they disregard the very warnings God has given, and deny every danger. Thus they show their need of turning away from the seductive spirit that is working to destroy faith in the messages of warning given in the past."
SpTA12 8-10