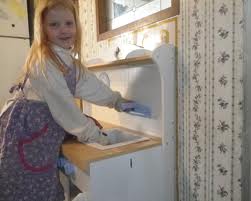 His lord said unto him, Well done, good and faithful servant; thou hast been faithful over a few things, I will make thee ruler over many things: enter thou into the joy of thy lord.
Matthew 25:23
Careful In Little Things
Seek God Early.
Children and youth should begin early to seek God; for early habits and impressions will frequently exert a powerful influence upon the life and character. Therefore the youth who would be like Samuel, John, and especially like Christ, must be faithful in the things which are least, turning away from the companions who plan evil and who think that their life in the world is to be one of pleasure and selfish indulgence. Many of the little home duties are overlooked as of no consequence; but if the small things are neglected, the larger duties will be also. You want to be whole men and women, with pure, sound, noble characters. Begin the work at home; take up the little duties and do them with thoroughness and exactness. When the Lord sees you are faithful in that which is least, He will entrust you with larger responsibilities. Be careful how you build, and what kind of material you put into the building. The characters you are now forming will be lasting as eternity.
Let Jesus take possession of your mind, your heart, and your affections; and work as Christ worked, doing conscientiously the home duties, little acts of self-denial and deeds of kindness, employing the moments diligently, keeping a careful watch against little sins and a grateful heart for little blessings, and you will have at last such a testimony for yourself as was given of John and Samuel, and especially of Christ: "And Jesus increased in wisdom and stature, and in favor with God and man." AH 297
Christ in His life on earth taught the lesson of careful attention to the little things. The great work of redemption weighed continually upon His soul. As He was teaching and healing, all the energies of mind and body were taxed to the utmost; yet He noticed the most simple things in life and in nature. His most instructive lessons were those in which by the simple things of nature He illustrated the great truths of the kingdom of God. He did not overlook the necessities of the humblest of His servants. His ear heard every cry of need. He was awake to the touch of the afflicted woman in the crowd; the very slightest touch of faith brought a response. When He raised from the dead the daughter of Jairus, He reminded her parents that she must have something to eat. When by His own mighty power He rose from the tomb, He did not disdain to fold and put carefully in the proper place the graveclothes in which He had been laid away.
The work to which as Christians we are called is to co-operate with Christ for the salvation of souls. This work we have entered into covenant with Him to do. To neglect the work is to prove disloyal to Christ. But in order to accomplish this work we must follow His example of faithful, conscientious attention to the little things. This is the secret of success in every line of Christian effort and influence.
COL 357, 358
God requires that His holy day be as sacredly observed now as in the time of Israel. The command given to the Hebrews should be regarded by all Christians as an injunction from Jehovah to them. The day before the Sabbath should be made a day of preparation, that everything may be in readiness for its sacred hours. In no case should our own business be allowed to encroach upon holy time. God has directed that the sick and suffering be cared for; the labor required to make them comfortable is a work of mercy, and no violation of the Sabbath; but all unnecessary work should be avoided. Many carelessly put off till the beginning of the Sabbath little things that might have been done on the day of preparation. This should not be. Work that is neglected until the beginning of the Sabbath should remain undone until it is past. This course might help the memory of these thoughtless ones, and make them careful to do their own work on the six working days.
PP 296
Economy in Little Things.--Let the proper estimate be placed upon the publications, and then let all in our offices study to economize in every possible way, even though considerable inconvenience is caused in consequence. Stop every leak. Mind the little things. It is the little losses that tell heavily in the end. Look after the littles, gather up the fragments, that nothing be lost; for many who look after the larger matters have never learned to guard and save the trifles. Waste not the minutes, for they mar the hours. Persevering diligence, work done in faith, will always be crowned with success. Some men think it beneath their dignity to look after small things. They consider it the evidence of a narrow mind and small spirit to be careful of the littles. Watch the little outgoes; save the little incomes. The smallest leak has sunk many a ship. No derision or jesting should keep us from saving the littles. Nothing that would serve the purpose should be left to go to waste. A lack of economy will bring debt upon our institutions. Much money may be received, but it will be lost in the little wastes of every branch of the work. Economy is not stinginess.
Every interested working man and woman employed in the office should be a faithful sentinel, watching the littles, that nothing be wasted. They should guard against supposed wants and expenditures of means. Some men will live better on four hundred dollars a year than others will on eight hundred. Just so it is with our institutions. Some can manage them with far less capital than others. God would have every worker practice economy, and especially learn to be faithful accountants. 1879.
PM 331, 332
The happiness of life is made up of little things. It is in the power of everyone to practice true Christlike courtesy. It is not the possession of splendid talents that will help us to overcome, but the conscientious performance of daily duties. The kind look, the lowly spirit, the contented disposition, the unaffected, sincere interest in the welfare of others--these things are helps in the Christian life. If the love of Jesus fills the heart, this love will be manifested in the life. We shall not show a determination to have our own way, a stubborn, selfish unwillingness to be happy or pleased. The health of the body depends more upon heart healthfulness than many suppose.
One can imagine himself slighted, imagine that he is not in as high a position as he is capable of filling, and so make of himself a supposed martyr. He is unhappy, but who is to blame? One thing is certain--kindness and amiability of temper will do more to exalt him than any supposed smartness with the curse of an ungenial disposition.
2SM 237
The secret of life's success is in a careful, conscientious attention to the little things. God makes the simple leaf, the tiny flower, the blade of grass, with as much care as He creates a world. The symmetrical structure of a strong, beautiful character is built up by individual acts of duty. All should learn to be faithful in the least as well as in the greatest duty. Their work cannot bear the inspection of God unless it is found to include a faithful, diligent, economical care for the little things.
4T 572
Teachers and students are to cooperate in doing their best. The constant effort of the teachers should be to make the students see the importance of constantly rising higher and still higher. Careful attention is to be given to the little things. Nothing in the house or about the premises is to be allowed to present a slack, dilapidated appearance. The horses are to be carefully stabled, and everything about the barn and stable is to be kept neat and clean.
We have no right to tax nerve and muscle so severely that we readily become excited, speaking words that dishonor God. This is not in the Lord's order. He wants us to be always calm and forbearing. However inconsiderate a course others may pursue, we are to represent Christ, doing as he would do under similar circumstances. We are to obey the words, "Be ye wise as serpents and harmless as doves." We are to keep our nerves in such a healthy condition that we shall ever be calm in speech and righteous in action.
It is by the quality of our work rather than the quantity that we shall be judged at the last great day.
7MR 327, 328
Keep the Home Pure and Attractive.--The home must be kept pure and clean. Unclean, neglected corners in the house will tend to make impure, neglected corners in the soul. Mothers, you are the educators of your children, and you can do a great deal if you begin early to inculcate pure thoughts, by fitting up their rooms in a cleanly, tasteful, attractive manner.
Guard the Associations.--If parents desire their children to be pure, they must surround them with pure associations such as God can approve.
CG 114
It may be that much work needs to be done in your character building, that you are a rough stone which must be squared and polished before it can fill a place in God's temple. You need not be surprised if with hammer and chisel God cuts away the sharp corners of your character, until you are prepared to fill the place He has for you. No human being can accomplish this work. Only by God can it be done. And be assured that He will not strike one useless blow. His every blow is struck in love, for your eternal happiness. He knows your infirmities, and works to restore, not to destroy.
CG 168
"For verily I say unto you, Till heaven and earth pass, one jot or one tittle shall in no wise pass from the law, till all be fulfilled.
Whosoever therefore shall break one of these least commandments, and shall teach men so, he shall be called the least in the kingdom of heaven: but whosoever shall do and teach them, the same shall be called great in the kingdom of heaven.
For I say unto you, That except your righteousness shall exceed the righteousness of the scribes and Pharisees, ye shall in no case enter into the kingdom of heaven."
Matthew 5:20
"As the Lord co-operated with Daniel and his fellows, so He will co-operate with all who strive to do His will. And by the impartation of His Spirit He will strengthen every true purpose, every noble resolution. Those who walk in the path of obedience will encounter many hindrances. Strong, subtle influences may bind them to the world; but the Lord is able to render futile every agency that works for the defeat of His chosen ones; in His strength they may overcome every temptation, conquer every difficulty.
God brought Daniel and his associates into connection with the great men of Babylon, that in the midst of a nation of idolaters they might represent His character. How did they become fitted for a position of so great trust and honor? It was faithfulness in little things that gave complexion to their whole life. They honored God in the smallest duties, as well as in the larger responsibilities.
As God called Daniel to witness for Him in Babylon, so He calls us to be His witnesses in the world today. In the smallest as well as the largest affairs of life, He desires us to reveal to men the principles of His kingdom. Many are waiting for some great work to be brought to them, while daily they lose opportunities for revealing faithfulness to God. Daily they fail of discharging with wholeheartedness the little duties of life. While they wait for some large work in which they may exercise supposedly great talents, and thus satisfy their ambitious longings, their days pass away.
In the life of the true Christian there are no nonessentials; in the sight of Omnipotence every duty is important. The Lord measures with exactness every possibility for service. The unused capabilities are just as much brought into account as those that are used. We shall be judged by what we ought to have done, but did not accomplish because we did not use our powers to glorify God.
A noble character is not the result of accident; it is not due to special favors or endowments of Providence. It is the result of self-discipline, of subjection of the lower to the higher nature, of the surrender of self to the service of God and man.
Through the fidelity to the principles of temperance shown by the Hebrew youth God is speaking to the youth of today. There is need of men who like Daniel will do and dare for the cause of right. Pure hearts, strong hands, fearless courage, are needed; for the warfare between vice and virtue calls for ceaseless vigilance. To every soul Satan comes with temptation in many alluring forms on the point of indulgence of appetite.
PK 487, 488