WE REAP WHAT WE SOW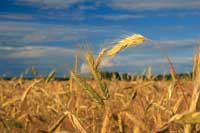 Romans 6:23
"For the wages of sin is death;
but the gift of God is
eternal life
through
Jesus Christ our Lord."
Galatians 6:7
"Be not deceived;
God
is not mocked.
for whatsoever a man
soweth, that shall he also reap."
Galatians 6:8
"For he that soweth to his flesh,
shall of the flesh reap corruption ;
but he that soweth to The Spirit
shall of The Spirit reap life everlasting."
WHAT ARE THE WORKS OF THE FLESH ?
Galatians 5:19
Now the works of the flesh are manifest, which are these; Adultery, fornication, uncleanness, lasciviousness,
Note: "lasciviousness = lust "
5:20 Idolatry, witchcraft, hatred, variance, emulations = (envy), wrath, strife, seditions, heresies,
5:21 Envyings, murders, drunkenness, revellings, and such like:
of the which I tell you before, as I have also told you in time past, that they which do such things shall not
inherit the kingdom of God.
So when we examine ourselves as the Scripture commands in:
2 Corinthians 13:5
"Examine yourselves, whether ye be in the faith; prove your own selves. Know ye not your own selves, how that Jesus Christ is in you, except ye be reprobates ?
Do we find ourselves still clinging on to the works of the flesh ? Do we still like to do some of these things that will destroy us ?
So many people blame God for accidents, sickness and disasters when the fault lies totally with the person or persons. God has warned us over and over again that there is a consequence to every choice we make. If we choose to sin, God told us that:
"The wages of sin is death"
For instance; when I rolled my truck, sheared of a hydro pole and ended upside down in the ditch hanging from my seat belt, was that God's fault ?
Absolutely not, I was too tired to be driving and never should have been behind the wheel ! I made the wrong choice and suffered the consequence ! Three broken ribs, and a demolished truck ! But God, in His love and mercy spared my life !
But I shutter to think that I could have crossed into the other lane and hit another vehicle killing its occupants !
Let us not blame God for the results of our own wrong choices !
WE WILL REAP WHAT WE SOW !
Whether it is in the spiritual or physical realm, the results lie totally in our own hands !
Do we realize that we decide our own destiny ? We decide whether we will be lost or saved ! We decide whether we will be in God's Kingdom or destroyed in the fire with Satan and his angels!
You and no one but you are responsible for your final destiny!
YOU CAN NOT EVEN BLAME
THE DEVIL!
God

does not say

this person is going to hell

and

this person is going to be saved !
WE CHOOSES

OUR DESTINY! GOD
ACCEPTS OUR CHOICE
AND WE WILL BE REWARDED
ACCORDING TO OUR CHOICE!
Do you still want to make an excuse for holding on to some "work of the flesh" that will take you into the fires of hell?
From Genesis to Revelation the message God has been sending to all of us wretched sinners is still the message today!
The Message of John The Baptist was :
REPENT
Matthew 3:1 "In those days came John the Baptist, preaching in the wilderness of Judaea,
3:2 And saying, Repent ye ; for the kingdom of heaven is at hand.
3:7 But when he saw many of the Pharisees and Sadducees come to his baptism, he said unto them, O generation of vipers, who hath warned you to flee from the wrath to come?
The Message of Jesus was :
Matthew 23:29 "Woe unto you, scribes and Pharisees, hypocrites !… Ye serpents, ye generation of vipers, how can ye escape the damnation of hell ?"
Jesus did not have a smooth message for the religious leaders of His day!
But Christ was not only speaking to the Scribes and Pharisees but to all the people. To all the people listening to Him, He said in Luke 3:4
"Or those eighteen, upon whom the tower in Siloam fell, and slew them, think ye that they were sinners above all men that dwelt in Jerusalem?
13:5 I tell you, Nay: but, except ye repent, ye shall all likewise perish.
God does not have a smooth message for you and I today. Jesus is saying to us the very same words as He spoke to the religious leaders and people when He was on earth ! We are an evil generation. Men delight in wickedness. Christ says to us repent!
The Message of the Apostles was the same as John and Jesus, notice these verses:
Acts 2:38 "Then Peter said unto them, Repent, and be baptized every one of you in the name of Jesus Christ for the remission of sins, and ye shall receive the gift of the Holy Ghost.
And in Acts 3:19 "Repent ye therefore, and be converted, that your sins may be blotted out,…"
John The Baptist

said,

"Repent"

Jesus Our Saviour said, "Repent"

Peter and The Apostles said, "Repent"

Our Eternal Destiny is in our own hands. WE choose to repent or choose to continue in rebellion against the Law of God.

Deuteronomy 30:19 "I call heaven and

earth to record this day against you, that I

have set before you life and death,

blessing and cursing: therefore choose

life, that both thou and thy seed may live :"

BUT LET US NEVER FORGET THAT, EVERY WORD THAT WE SPEAK, EVERY THING THAT WE DO HAS AN INFLUENCE ON OTHERS AND WILL LEAD THEM TO LIFE OR DEATH !

If we continue a life of sin and thereby encourage others to sin, we are going to pay the penalty in the Judgment, BUT not just for our own sins but those sins of others who were influenced by our

wrong choices!

Many times when Jesus healed a sick person He said to them:

"Behold, thou art made whole: sin no more, lest a worse thing come unto thee."

John 5: 14.

May God help us each one to sin no more!

Behold What

Manner of Love!

"The blood of Jesus Christ",
God's Son
"cleanseth us from ALL SIN"
"Go and sin no more"