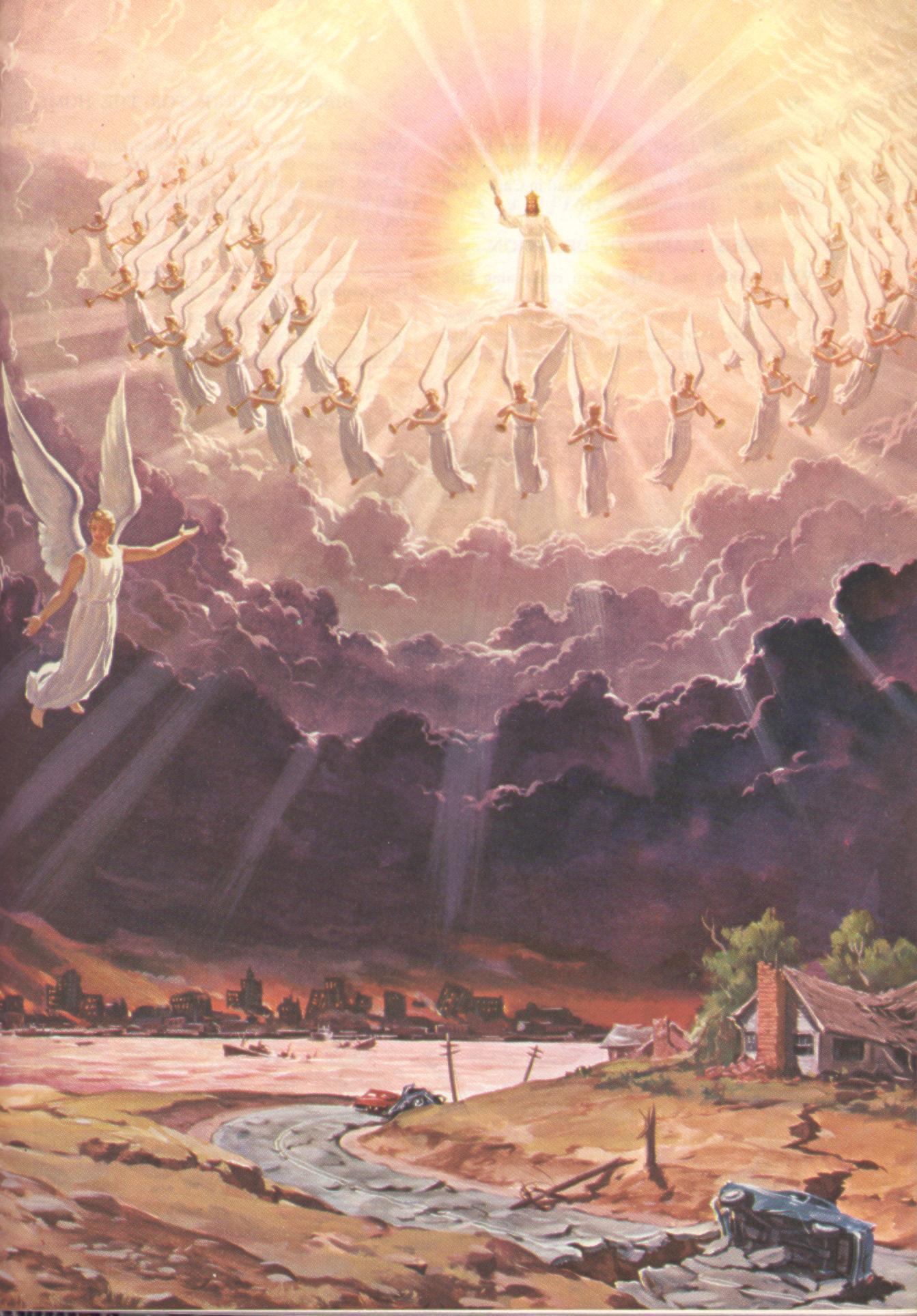 Coming Of Jesus
Dear Brethren and Sisters:--Do we believe with all the heart that Christ is soon coming? And that we are now having the last message of mercy that is ever to be given to a guilty world? Is our example what it should be? And do we show to those around us, by our lives and holy conversation, that we are looking for the glorious appearing of our Lord and Saviour Jesus Christ, to change these vile bodies and fashion them like unto his glorious body? I fear that we do not believe, and realize these things as we should. Those who believe the important truths that we profess to believe, should act out their faith, in the immediate coming of Christ. There is too much seeking amusements, and things to take up the mind here in this world; the mind is left too much to run upon pride of dress; and the tongue is engaged too often in light and trifling conversation, which gives the lie to our profession, for the conversation is not in heaven from whence we look for the Saviour.
Angels are watching over us, to guard us; and we often grieve these angels by indulging in trifling conversation, jesting and joking, and also by sinking down in a careless, stupid state. And although we may make an effort now and then for the victory, and obtain it, yet if we do not keep it, but sink down in the same careless, indifferent state, unable to endure temptations, and to resist the enemy, it is not enduring the trial of our faith, that is more precious than gold. It is not suffering for Christ's sake, and glorying in tribulation.
There is a great lack of christian fortitude, and serving God from principle. We should not seek to please and gratify self; but to honor and glorify God, and in all we do and say, have a single eye to his glory. If we would let our hearts be impressed with the following important words, and ever bear them in mind, we should not so easily fall into temptation; but our words would be few and well chosen."
ExV54 30-31
-----------------------------
"But God will have a people on the earth that will not be so cold and dead but that they can praise and glorify him. He will receive glory from some people, and if his chosen people, who keep his commandments should hold their peace the very stones would cry out.
Jesus is coming, but not as at his first Advent, a babe in Bethlehem, not as he rode into Jerusalem, when the disciples praised God with a loud voice and cried, Hosannah; but in the glory of the Father, and with all the retinue of holy angels with him, to escort him on his way to earth. All heaven will be emptied of the angels. While the waiting saints will be looking for him, and gazing into heaven, as were the "men of Galilee" when he ascended from the Mount of Olivet. Then, those only who are holy, those who have followed fully the meek Pattern will, with rapturous joy, exclaim as they behold him, "Lo, this is our God, we have waited for him, and he will save us." And they will be changed "in a moment, in the twinkling of an eye, at the last trump," that wakes the sleeping saints, and calls them forth from their dusty beds, clothed with glorious immortality, shouting, Victory! Victory! over death and the grave. The changed saints are caught up together with them to meet the Lord in the air, never more to be separated from the object of their love.
With such a prospect as this before us, such a glorious hope, such a redemption that Christ has purchased for us by his own blood, shall we hold our peace? Shall we not praise God, even with a loud voice, as the disciples did when Jesus rode into Jerusalem? Is not our prospect far more glorious than theirs was? Who dare then forbid us glorifying God, even with a loud voice, when we have such a hope, big with immortality and full of glory? We have tasted of the powers of the world to come, and long for more. My whole being cries out after the living God, and I shall not be satisfied until I am filled with all his fullness."
ExV54 28, 29
----------------------------------
"Men in their blindness boast of wonderful progress and enlightenment; but to the eye of Omniscience are revealed the inward guilt and depravity. The heavenly watchers see the earth filled with violence and crime. Wealth is obtained by every species of robbery, not robbery of men only, but of God. Men are using His means to gratify their selfishness. Everything they can grasp is made to minister to their greed. Avarice and sensuality prevail. Men cherish the attributes of the first great deceiver. They have accepted him as God, and have become imbued with his spirit.
But the cloud of judicial wrath hangs over them, containing the elements that destroyed Sodom. In his visions of things to come the prophet John beheld this scene. This demon worship was revealed to him, and it seemed to him as if the whole world were standing on the brink of perdition. But as he looked with intense interest he beheld the company of God's commandment-keeping people. They had upon their foreheads the seal of the living God, and he said: "Here is the patience of the saints: here are they that keep the commandments of God, and the faith of Jesus. And I heard a voice from heaven saying unto me, Write, Blessed are the dead which die in the Lord from henceforth: Yea, saith the Spirit, that they may rest from their labors; and their works do follow them. And I looked, and behold a white cloud, and upon the cloud One sat like unto the Son of man, having on His head a golden crown, and in His hand a sharp sickle. And another angel came out of the temple, crying with a loud voice to Him that sat on the cloud, Thrust in Thy sickle, and reap: for the time is come for Thee to reap; for the harvest of the earth is ripe. And He that sat on the cloud thrust in His sickle on the earth; and the earth was reaped. And another angel came out of the temple which is in heaven, he also having a sharp sickle. And another angel came out from the altar, which had power over fire; and cried with a loud cry to him that had the sharp sickle, saying, Thrust in thy sharp sickle, and gather the clusters of the vine of the earth; for her grapes are fully ripe. And the angel thrust in his sickle into the earth, and gathered the vine of the earth, and cast it into the great winepress of the wrath of God." Revelation 14:12-19.
6T 14, 15
-----------------------------------
"The signs in the sun, moon, and stars have been fulfilled. Since that time earthquakes, tempests, tidal waves, pestilence, and famines have multiplied. The most awful destructions, by fire and flood, are following one another in quick succession. The terrible disasters that are taking place from week to week speak to us in earnest tones of warning, declaring that the end is near, that something great and decisive will soon of necessity take place.
Confusion fills the world, and a great terror is soon to come upon human beings. The end is very near. We who know the truth should be preparing for what is soon to break upon the world as an overwhelming surprise.
Probationary time will not continue much longer. Now God is withdrawing his restraining hand from the earth. Long has he been speaking to men and women through the agency of his Holy Spirit; but they have not heeded the call. Now he is speaking to his people, and to the world, by his judgments. The time of these judgments is a time of mercy for those who have not yet had opportunity to learn what is truth. Tenderly will the Lord look upon them. His heart of mercy is touched; his hand is still stretched out to save.
The day of Christ's coming will be a day of judgment upon the world. When the multitude of the lost--those whom God has favored with great light, but who rejected the light; those who might have been saved, had they obeyed God's law, but who refused to obey--when these see the Son of man coming in the clouds of heaven, they will understand the great sacrifice made in their behalf; they will understand the unmeasured love of the Redeemer, his incarnation, the sweat-drops of blood, the marks of the nails in his hands and feet, the pierced side; and they will ask to be hidden from the face of him that sitteth on the throne, and from the wrath of the Lamb. They see as in reality the condemnation of Christ, and hear the loud cry, "Release unto us Barabbas." They hear the question, "What shall I do then with Jesus?" and the answer, "Crucify him, crucify him!"
The reign of appearance and pretense is over. The righteous Judge speaks with awful emphasis as he utters the sentence, "I know you not, . . . depart from me."
"When the Son of man shall come in his glory, and all the holy angels with him, then shall he sit upon the throne of his glory: and before him shall be gathered all nations: and he shall separate them one from another, as a shepherd divideth his sheep from the goats: and he shall set the sheep on his right hand, but the goats on the left.
"Then shall the King say unto them on his right hand, Come, ye blessed of my Father, inherit the kingdom prepared for you from the foundation of the world." Thus he welcomes them, to live hereafter in eternal communion with himself. And every voice in the heavenly mansions echoes and re-echoes the welcome, "Come, ye blessed of my Father, inherit the kingdom prepared for you from the foundation of the world."
Jesus is coming, coming with clouds and great glory. A multitude of shining angels will attend him. He will come to honor those who have loved him and kept his commandments, and to take them to himself. He has not forgotten them or his promise.
There will be a re-linking of the family chain. When we look upon our dead, we may think of the morning when the trump of God shall sound, when "the dead shall be raised incorruptible, and we shall be changed."
No human language can fully describe the reward of the righteous. It will be known to those only who behold it. There the heavenly Shepherd leads his flock to the fountains of living water. The tree of life yields its fruit every month, and the leaves of the tree are for the healing of the nations. There are ever-flowing streams, clear as crystal, and beside them waving trees cast their shadows upon the paths prepared for the ransomed of the Lord. There the widespreading plains swell into hills of beauty, and the mountains of God rear their lofty summits. On those peaceful plains, beside those living streams, God's people, so long pilgrims and wanderers, shall find a home.
"My people shall dwell in a peaceable habitation, and in sure dwellings, and in quiet resting-places." "Violence shall no more be heard in thy land, wasting nor destruction within thy borders; but thou shalt call thy walls Salvation, and thy gates Praise."
"They shall build houses and inhabit them; and they shall plant vineyards, and eat the fruit of them. They shall not build, and another inhabit; they shall not plant, and another eat:. . . . Mine elect shall long enjoy the work of their hands."
There will be no more tears, no funeral trains, no badges of mourning. "There shall be no more death, neither sorrow, nor crying. . . . for the former things are passed away." "The inhabitants shall not say, I am sick: the people that dwell therein shall be forgiven their iniquity."
That time is near. A little while, and we shall see the King in his beauty. A little while, and he will present his faithful ones "faultless before the presence of his glory with exceeding joy."
SW, December 1, 1909
"Our profession is an exalted one. As Sabbathkeeping Adventists we profess to obey all God's commandments and to be looking for the coming of our Redeemer. A most solemn message of warning has been entrusted to God's faithful few. We should show by our words and works that we recognize the great responsibility laid upon us. Our light should shine so clearly that others can see that we glorify the Father in our daily lives; that we are connected with heaven and are joint heirs with Jesus Christ, that when He shall appear in power and great glory, we shall be like Him.
Here Am I, Lord, Send Me"
"The end is near, stealing upon us stealthily, imperceptibly, like the noiseless approach of a thief in the night. May the Lord grant that we shall no longer sleep as do others, but that we shall watch and be sober. The truth is soon to triumph gloriously, and all who now choose to be laborers together with God will triumph with it. The time is short; the night soon cometh when no man can work. Let those who are rejoicing in the light of present truth, now make haste to impart the truth to others. The Lord is inquiring, "Whom shall I send?" Those who wish to sacrifice for the truth's sake, are now to respond, "Here am I, Lord; send me."
CCh 63, 64
Partakers with Christ of His Glory
"Lo, this is our God; we have waited for him, and he will save us. . . . We will be glad and rejoice in his salvation." Isaiah 25:9.
"Jesus is coming! But not to listen to the woes of mankind, and to hear the guilty sinner confess his sins, and to speak pardon to Him; for everyone's case will then be decided for life or death. Those who have lived in sin will remain sinners forever. Those who have confessed their sins to Jesus in the sanctuary, have made Him their friend, and have loved His appearing will have pardon written for all their sins, and they, having purified their souls "in obeying the truth," will remain pure and holy forever.
Jesus is coming as He ascended into heaven, only with additional splendor. He is coming with the glory of His Father, and all the holy angels with Him, to escort Him on His way. Instead of the cruel crown of thorns to pierce His holy temples, a crown of dazzling glory will deck His sacred brow. He will not then appear, the man of sorrows and acquainted with grief; but His countenance will shine brighter than the noonday sun. He will not wear a plain seamless coat, but a garment whiter than snow--of dazzling brightness.
Jesus is coming! But not to reign as a temporal prince. He will raise the righteous dead, change the living saints to a glorious immortality, and, with the saints, take the kingdom under the whole heaven. This kingdom will never end. Then those who have patiently waited for Jesus will be made like Him.
If one angel from heaven caused the Roman guard to fall as dead men, how can those who are unprepared, unholy, bear the sight and live, of seeing Jesus in the glory of His Father and ten thousand angels accompanying Him. O how can sinners bear this sight! They will cry for rocks and mountains to fall on them, and hide them from the face of Him that sitteth on the throne, and from the wrath of the Lamb. . . .
Seek a thorough preparation to meet Jesus, that when He appears you may exclaim with joy, "Lo, this is our God; we have waited for him, and he will save us." Eternal life will then be yours, and you will be a partaker with Christ of His glory, ever to hear His glorious approving voice, and behold His lovely person.
None who truly love Jesus will be sorry that He is coming again. And as they approach nearer to the coming of the Son of man, the true lovers of Jesus will look forward with joyous hope, and will seek to get all ready to behold Him whom their souls loveth, who died to redeem them."
LHU 379
Homeward Bound!
"The living righteous are changed "in a moment, in the twinkling of an eye." At the voice of God they were glorified; now they are made immortal, and with the risen saints are caught up to meet their Lord in the air. Angels "gather together His elect from the four winds, from one end of heaven to the other." Little children are borne by holy angels to their mothers' arms. Friends long separated by death are united, nevermore to part, and with songs of gladness ascend together to the city of God.
We all entered the cloud together, and were seven days ascending to the sea of glass.
And as the chariot rolled upward, the wheels cried, "Holy," and the wings, as they moved, cried, "Holy," and the retinue of holy angels around the cloud cried, "Holy, holy, holy, Lord God Almighty!" And the saints in the cloud cried, "Glory! Alleluia!"
Oh, how glorious it will be to see Him and be welcomed as His redeemed ones! Long have we waited, but our hope is not to grow dim. If we can but see the King in His beauty we shall be forever blessed. I feel as if I must cry aloud, "Homeward bound!"
The Angels Sing, Christ Has Conquered!
In that day the redeemed will shine forth in the glory of the Father and the Son. The angels, touching their golden harps, will welcome the King and His trophies of victory--those who have been washed and made white in the blood of the Lamb. A song of triumph will peal forth, filling all heaven. Christ has conquered. He enters the heavenly courts, accompanied by His redeemed ones, the witnesses that His mission of suffering and sacrifice has not been in vain.
With unutterable love, Jesus welcomes His faithful ones to the joy of their Lord.
LDE 280, 281